My friend Joanne read my blog reminder to pray the Saint Joseph Novena, and she texted me back with a traditional pasta dish her family makes to celebrate St. Joseph's feast day. Joanne swears it's delicious!
This is new for me (breadcrumbs and raisins in pasta), and I will definitely make it for my family.
Repost from: https://www.shelovesbiscotti.com/saint-josephs-day-spaghetti-recipe/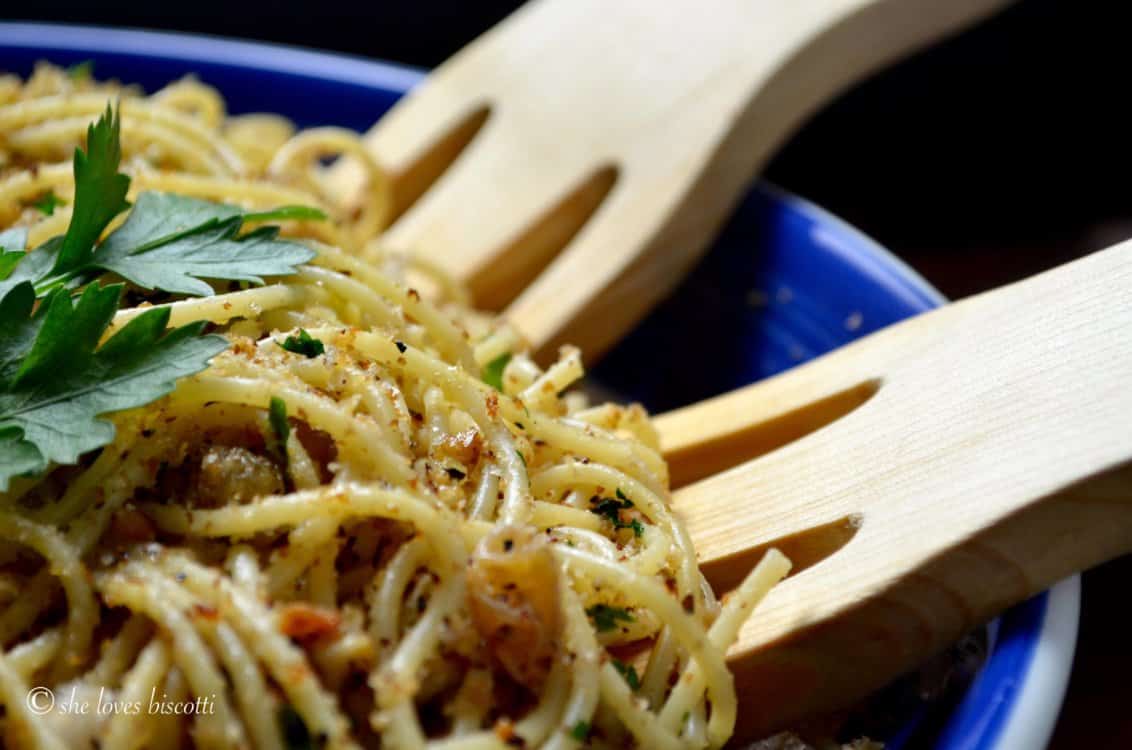 St. Joseph's Spaghetti, aka Spaghetti di San Giuseppe, is a pasta dish recipe traditionally served on March 19th and Christmas Eve. A plate of spaghetti which has been coated with a mixture of olive oil, toasted breadcrumbs, walnuts, garlic, golden raisins and parsley.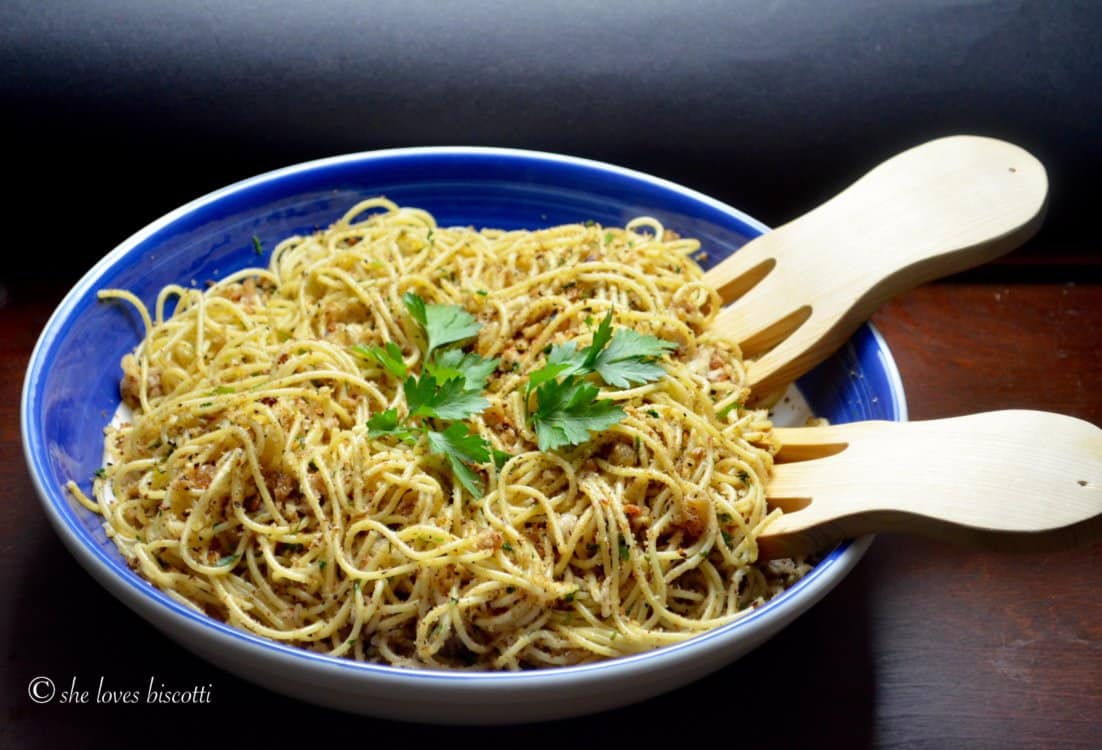 ST. JOSEPH'S SPAGHETTI
Think about this for a minute: a plate of carbs (pasta), served with more carbs (toasted breadcrumbs). The breadcrumbs in this recipe are very symbolic – they are meant to represent sawdust (since Saint Joseph was a carpenter), and cheese (since this was a poor man's dish).
This is a classic example of cucina povera -which literally means "cooking of the poor".
WHAT DO I NEED TO MAKE ST. JOSEPH'S SPAGHETTI?
Olive oil: Extra virgin if available.
Garlic: Feel free to use more than the stated amount.
Coarse breadcrumbs: Homemade if possible.
Walnuts: Chopped finely.
Parsley: Provides a wonderful contrast in color as well as a clean bright flavor.
Golden raisins: A wonderful burst of sweetness.
Spaghetti: The pasta of choice when making this dish. Look for spaghetti no 5.
Orange rind: Optional, but provides a citrus undertone.
Optional ingredient: Anchovies
As far as accessories are concerned, you will need a large pot to cook the pasta as well as a colander. Also required is a wooden board and a sharp knife to properly chop up the garlic, walnuts and parsley. Finally a large skillet and a wooden spoon to stir fry a few of the ingredients.
HOW TO MAKE ST. JOSEPH'S SPAGHETTI:
In a large skillet, saute the garlic in the olive oil for a few minutes. If using anchovies, add a couple of them at this point.
Add the breadcrumbs and a couple of tablespoons of olive oil and continue to saute. Add the walnuts, raisins and parsley and saute this mixture until the breadcrumbs are golden brown and toasty.
Meanwhile, cook the spaghetti according to your package label.
Add one cup of pasta water to the bread mixture if it appears dry.
Once the spaghetti is cooked, simply combine the two by layering in a large bowl.
This pasta dish can be served hot or at room temperature.
Course: Main
Cuisine: Italian
Prep Time: 15 minutes
Cook Time: 15 minutes
Total Time: 30 minutes
Servings: 6 servings
Calories: 903kcal
Author: Maria Vannelli RD
Ingredients
8 tablespoons olive oil divided
6 garlic cloves minced
2 cups unseasoned coarse breadcrumbs
2 cups finely chopped walnuts about 200 grams
4 tablespoons fresh parsley chopped
3/4 cup of golden raisins plumped (about 100 grams)
1 pound spaghetti 454 grams (1 package)
salt to taste
pepper and crushed red pepper flakes to taste
Orange peel optional
Instructions
In a large skillet, over medium heat, heat about 2 tablespoons of olive oil.
Sauté the garlic until fragrant, 1-2 minutes (do not brown).
Reduce heat to medium low and add the breadcrumbs.
Add 2 more tablespoons of olive oil and combine. Stir together for about 2 minutes (breadcrumbs will get slightly toasted and should absorb the oil).
Add the chopped walnuts and stir fry for another 2 minutes.
Add raisins and parsley. Stir to combine for 1-2 minutes. Set aside. Add up to 1 cup of the cooking water (from the pasta) if the mixture appears to dry.OPTIONAL: Add orange peel and combine with the raisins and parley.
Meanwhile bring a large pot of salted water to a rolling boil.
Add the spaghetti and cook until al dente.
Drain the pasta and reserve about 1 cup of the cooking water. Drizzle 2 more tablespoons of olive oil.
In a large serving dish, alternate layers of pasta and bread mixture (top with bread mixture). Note: Remove orange rind if used in the mixture.
Garnish with parsley and drizzle remaining olive oil.
God Bless and Happy Cooking 💖